Super Human Effort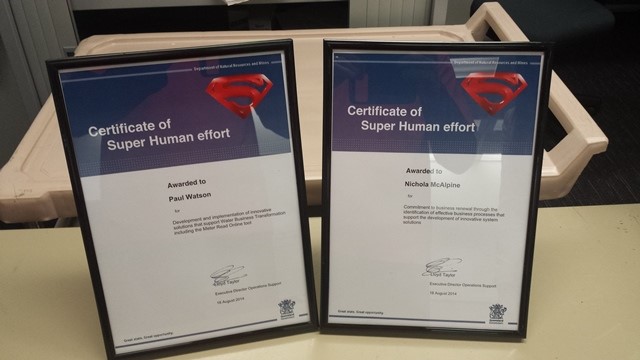 A big congratulations must go out to the P2E team deployed in the Department of Natural Resources and Mines working on the Water Information ICT Enhancement Projects as part of the departments Water Business Reform Program.
Paul Watson has been performing the function of the Program Manager for 18 months and Nichola McAlpine has been acting in the capacity of the lead Business Analyst.
Both have been flagged for their Super Human Efforts recently, recognised by the department for their innovative contribution to ICT enabled solutions.
Paul and Nichola were extremely surprised to have been awarded with certificates of recognition. When asked about the environment and challenges encountered within the program of work, Paul commented on the Departments ability to coordinate input from a multitude of stakeholders, geographically dispersed with differing requirements. Paul also commented on the commitment, support and empowerment that the executive enable across the business.
Both Paul and Nichola are thoroughly enjoying working within the Department of Natural Resources and Mines and look forward to the challenges associated with the next phase of the program.
WELL DONE to Paul and Nichola on exceptional performance!