Heritage Bank Charity Golf Day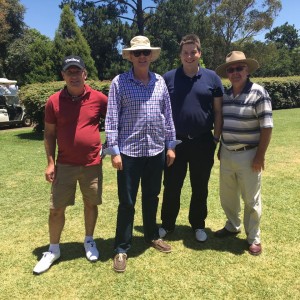 P2E are proud to have sponsored the Heritage Bank Charity Golf Day, and contribute (somewhat poorly) to the golfing activities with Todd Hunt, Bill King and Grant Higinbottom being joined by Heritage Bank's David Johnston to make up the team of four.
Heritage, along with honoured sponsors (P2E, One Team Clean and Ergon Energy) managed to raise $50,000 on the day with the beneficiaries including:
Essilor Vision Foundation
Food Assist Toowoomba
Meals on Wheels
Oakey Girl Guides
Yellowbridge Queensland Ltd
Emerikus Land Foundation
PCYC
Oakey Pony Club
Toowoomba & District Multiple Birth Association
A great day was had by all, but the golfing skills leave something to be desired. Let's just say, as a golfer, Bill makes a great beekeeper!