P2E Continued Success with Delivery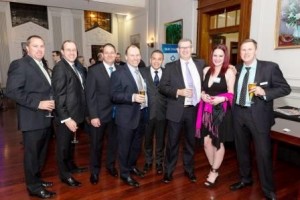 P2E were once again recognised for their delivery capability at the 2014 Australian Institute of Project Management Excellence Awards for the Queensland Chapter, conducted at Brisbane Town Hall on 4th September 2014. P2E also a sponsor of the AIPM, were joined by several client partners including members of the Queensland Police Service directly involved in the Renewal Program.
It was another exceptional event run by Australia's leading Project Management professional institution where several awards were present by P2E's Director of Business Enablement and Support (Mr Geoff Crooks).
P2E working collaboratively with the Queensland Police Service received a High Commendation for the Organisation/Change Management category specific to the second stage of the QPS Renewal Program. Icing on the cake was when Todd Hunt (P2E Director of Client Service and Delivery) won Project Director of the Year for Queensland. Todd will now qualify for the national excellence awards where category winners from across Australia will compete.