P2E Continue Valued Delivery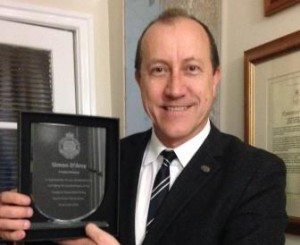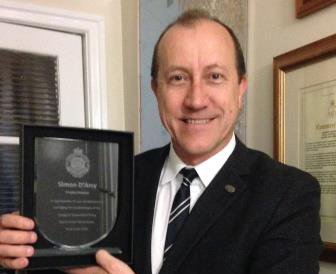 P2E Project Director Simon D'Arcy has been working tirelessly with the Queensland Police Service (QPS) to establish the new Rapid Action and Patrols capability on the Gold Coast, under the direction of Deputy Commissioner Brett Pointing. In appreciation of his commitment to managing the establishment of the inaugural QPS Hub, Simon and his Project Officer Senior Sergeant Kate Hopgood were presented with beautifully presented engraved glass plaques.
When asking Simon why this project has been so successful, he responded by telling us that the executive leadership through governance and quality of the people supporting the project from the QPS and the Public Safety Business Agency (PSBA) was excellent. Simon also made special mention of his Project Officer Kate Hopgood who has been outstanding and invaluable with her business knowledge and dedication to getting the job done.
When asking Simon what were his biggest challenges with successful deliver, he responded by saying that the compressed timelines and the ability to expedite procurement activities when the PSBA were also under going significant transformational change to deliver the new capability to meet operational and government requirements.
P2E are proud and privileged to have Simon as part of our professional family.