Change Management for the Australian Public Sector 2017
February 2017 will see P2E Director Todd Hunt, in conjunction with Superintendent Mark Plath of the Queensland Police Service (QPS), present at the Ark Group's (@arkgroup) leading forum for Change Management in the Australian Public Sector (#changegov).
Todd and Mark will outline the scope and context of the 2014 G20 Leaders' Summit conducted in Brisbane. It will focus on the Queensland Police Service (QPS) and its detailed plans for the Tier 2 security of the G20 Leaders' Summit and how this large public sector organisation managed considerable change within its planning approach, operational delivery and across its workforce. The session will highlight several critical success factors and how these have been implemented or enhanced for the current planning for the QPS role in Commonwealth Games.
One Day Connected Interactive Forum + Two Post-Forum Half Day Working Modules
1-2 February 2017, Novotel Sydney Central
The Leading Forum on Change Management within the Australian Public Sector (@arkgroup #changegov)
Hear case studies and strategies used by leading practitioners on the areas of Disruptive, Community, Agile and Transitional Change within the public sector: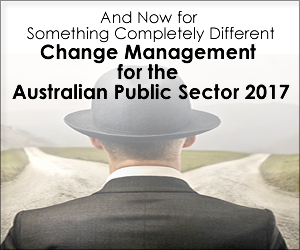 Inspiring Change
Lessons Learned
Transitional Change
Working in a Agile Environment
Overcoming Resistance to Change
Community Change
Fundamentals, tools in implementing change
…and for the first time anywhere – "A World Cafe Open Mike"
Learn from case studies, insights and candid viewpoints from:
Commonwealth Games Group Queensland Police Service
Department of Human Services
Territory Generation
Legal Aid NSW
P2E Pty Ltd
Metro Trains Melbourne
Social Media Navigator
Neryl East Communications
Aged and Community Services Australia
Post-Forum Working Modules – 2 February 2017
Module Workshop A: Implementing an Enterprise Wide Change Management Programme, La Salle Matrix Thinking
Module Workshop B: Transformational Change in a Complex Environment, SenateSHJ
Interested?
OR